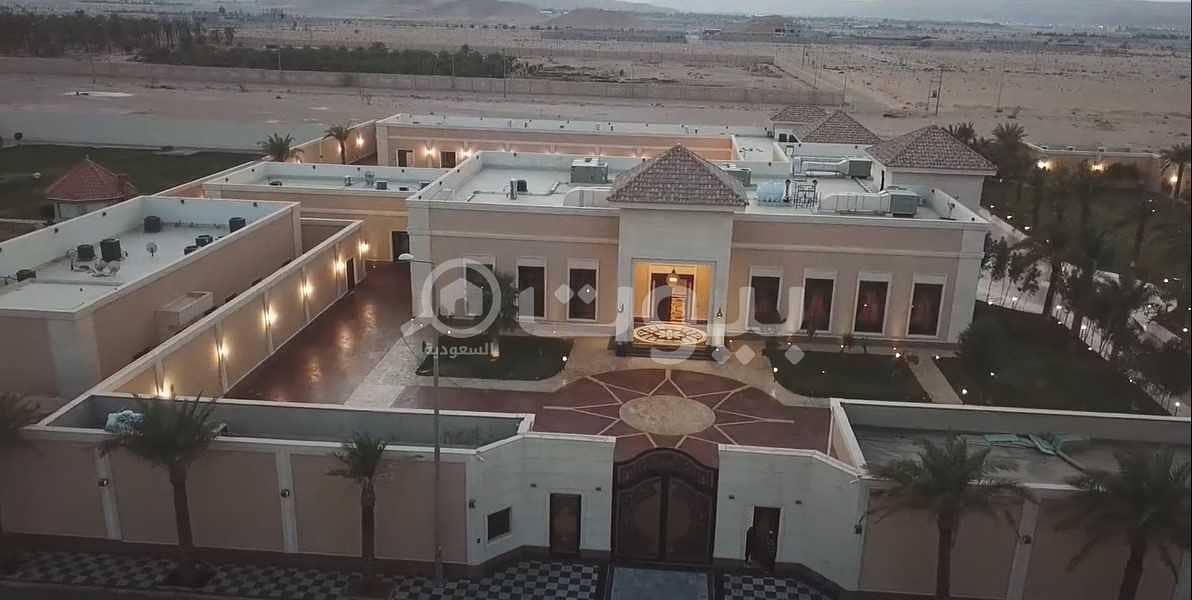 Al Ammariyah, Al Diriyah, Riyadh Region
Palace for sale in Al Ammariyah, Al Diriyah
Advertiser Registration Number:
Advertiser License Number:
Authorization Code:

The palace is located in Al Ammariyah suburb, Al Diriyah
Al Wurud scheme, which is considered one of the best schemes in terms of landscape and terrain.
Palace area: 10000 sqm
Land dimensions: 100x100
Facade: Eastern, on a street with a width of 20m

The main building:
The main building consists of 3 main sections:
The first section: Reception for men and women + the family section (living area) + the family section (the dormitory)
The first section details: The main reception for men and women and consists of: an eastern entrance with a lobby and a main men's living room with an area of (5 * 10) approximately according to the plan, and an annex with an open living room is an extension to the main living room, and there is a Moroccan living room separated by a wooden door that includes two bathrooms, 10 washbasins for men and a living room for children.
It also includes a fully equipped dining hall that can accommodate up to 50 people and also includes an equipped main kitchen, from Al Mohtaseb Company, with all modern and traditional cooking methods
The kitchen includes a room for refrigerators, 4 freezers, and a pantry for dry materials, with an annex room for chefs equipped with a bathroom and a laundry room, equipped with 3 washbasins.
There is an entrance for women, and there are a large loppy and a women's living room with an area of 10 x 15 m
There are two bathrooms, 5 washbasins, and in the main reception section, the height of the building is noted about 6.5 meters to give it luxury, gypsum works, wall antique works, and complete furnishings are included.

Palace components:
The main building of the private villa (hospitality)
working site·
The family section (living): It is completely separated by a wooden door from the main hospitality section, and it consists of a main northern entrance, a private living room with a bathroom, two washbasins, and a dining hall overlooking the corridor and swimming pool, and it also includes a kitchen for preparing food for the family and a room with a bathroom for the servants
It also includes two living rooms, one with a view of the pool and the other on the garden. It also includes a special room for visitors overnight stays with a bathroom, and this section also includes a bathroom and 3 washbasins.

Department of Family Accommodation:
It consists of 6 master bedroom suites equipped with an integrated bathroom for each suite and also includes a room dedicated to sports, dressing room and showers, a bathroom for the purpose of preparing for the swimming pool.

Private villa (hospitality)
It is located in an area of ​​about (700 SQM) and it has two entrances, one of them is internal to the palace and the other on the street
The main house includes a modern, fully furnished Arabian tent and an Electrical generator of (362 KVA) to supply electricity to the palace in case the power outage.
Equipped with a muffler.
As for the villa, it consists of a ground floor with 4 fully furnished bedroom suites and a kitchenette for preparing meals, and there are a bathroom and washbasin to serve the guests, in addition to a small living room that can accommodate 10 people

Basement:
It consists of an electric elevator, a pump room, a bathroom, a small hall for preparing food, and a specially designed celebration center with an area of ​​(225 SQM). Acoustics and insulation works have been carried out.
Flooring, decoration, and lighting by Al-Khalidi Company, which specializes in the work of theaters.
All devices are imported from Dubai

The general site works:
The emphasis on outdoor cultivation has been placed on grass, palms, and a few ornamental trees, there are approximately 45 palm trees
with a height of 6m of Al Burji and Al Sukari fruitful trees, and an artesian well with a depth of 350m was dug
However, it is noticed that the water is weak in Al Ammariyah in general, especially in the summer season
Cistern water was provided to supply the palace with water daily, and there are 3 ground tanks each
a tank of 1000m3 capacity, one for agriculture, the second for the palace, and the third for the private villa.

There is a Shaded car parking that can accommodate 6 cars from reinforced concrete.
There are 4 guard's rooms equipped with bathrooms, and all of them open to the inside.
There are two large entrances, one is automatic and the other is manual, with 2 small entrances.
There is an outdoor swimming pool with a distinctive engineering design with a special pump room and equipment.
There are surfaces of sealed concrete with distinctive geometric shapes and colors that have been implemented by Jabal Construction, who specialize in this field.

- The implementation of the palace started in the first quarter of 2015 and was completed at the beginning of 2018.
- The Construction work was carried out by Fajr Construction Company, which is classified first in construction works.
- Marble and slabs were supplied from the Uni Mar Factory, Which specializes in supplying private palaces, and was installed by the company's workers.
- All plumbing and electrical works were carried out by Filipino and Indian technicians from the company's labor.
- The gypsum works were carried out by Pakistani foreign workers as well as plaster works.
- All wood doors are from Doors World Factory, by specialists.
- Aluminum works were carried out by Granada Aluminum Works.
- The concealed air conditioners were supplied by Train and Fuji and were installed by the AlFouj Company.
- Water and thermal insulation works by Riyadh Insulators Company, with a ten-year guarantee.
- All bathrooms and washbasins by Najm Aba Hussain (Tutu, Kotto) and the German Grohe sanitary wares, and the chandeliers were manufactured in Egypt.
Property Information
Type

Palace

Purpose

For Sale

Reference no.

Bayut - ID87468369

Residence Type

Family

Completion

Ready

Added on

April 8, 2021
Location & Nearby
This property is no longer available