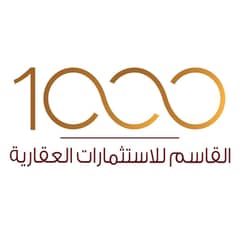 Agents:

Properties:

Service Areas:

Riyadh, Jeddah, Afif, Al Quwaiiyah, Dammam, Tabuk, Al Kharj

Property Types:

Apartments, Floors, Shops, Villas, Commercial Lands, Agriculture Plots, Palaces, Residential Buildings, Other Commercial, Commercial Buildings, Residential Lands, Rest Houses, Hotel Apartments

Properties for:
Description
Advertiser Registration Number: 1010295421 Advertiser License Number: 5315446 1000 Al Qasem Real Estate Investments Company Alf Al Qassem Real Estate Investment Company is one of the leading real estate companies in the Kingdom of Saudi Arabia Where the company's activity is to invest in real estates such as residential buildings and towers, shops, and trade fairs. The company's activity is located in several cities, including Riyadh, Al-Kharj, Jeddah, and Hafr Al-Batin. The headquarters of the company is located in Riyadh. Alf Al-Qasim Company was established in Riyadh in 2006 by Sheikh/ Fahd Suleiman Al-Qasim and expanded its work until it became one of the largest companies in the Kingdom. Where the company's management is concentrated with a clear and wise vision under the management of Sheikh / Hakim bin Fahd Suleiman Al Qassim. Thanks to God Almighty, more than 500 buildings are managed and operated, containing more than 10 thousand apartments and more than 200 commercial Showrooms.
Properties
by 1000 Al Qasem Real Estate Investments Company
Al Marwah, North Jeddah, Jeddah, Western Region

Apartment

Furnished luxury apartments for rent in Al Marwah, North Jeddah

Al Uraija Al Gharbiyah, West Riyadh, Riyadh, Riyadh Region

Apartment

Families Apartment For Rent In Al Uraija Al Gharbiyah, West Riyadh

Al Athir, Dammam, Eastern Region

Apartment

Singles apartments for rent in Al-Atheer District, Dammam

Al Nuzhah, North Jeddah, Jeddah, Western Region

Apartment

Furnished apartments to monthly or yearly rent in Al Nuzhah, north of Jeddah

Al Qadisiyah, East Riyadh, Riyadh, Riyadh Region

Apartment

Apartment For Rent In Al Qadisiyah, East Riyadh

Al Rawabi, East Riyadh, Riyadh, Riyadh Region

Apartment

Apartment For Rent In Al Rawabi, East Riyadh

Al Salam, East Riyadh, Riyadh, Riyadh Region

Apartment

Apartment For Rent In Al Salam, East Riyadh

King Faisal, East Riyadh, Riyadh, Riyadh Region

Apartment

Family Apartment for rent in King Faisal District, East of Riyadh

Al Zahraa, North Jeddah, Jeddah, Western Region

Apartment

Furnished apartments for rent in Al Zahraa, North Jeddah

Al Rawabi, East Riyadh, Riyadh, Riyadh Region

Apartment

Singles Apartments For Rent In Al Rawabi, East Riyadh

Al Khaleej, East Riyadh, Riyadh, Riyadh Region

Apartment

Bachelor's apartment for rent in Al Khaleej District, East of Riyadh

Al Shifa, South Riyadh, Riyadh, Riyadh Region

Apartment

Apartment For Rent In Al Shifa, South Riyadh